Owner
Owner
Head Developer
Jun 1, 2012
193
94
28
22
Gold

112
Well, this is my project. I have been pretty much been solo, with the exception of help from one person. I have several features & story line items that i will not post here for now, because they are still very basic and have no front ends. Ill get them in asap, but for now ill show this:
Features
Mail System - 95% - Working on UI, finnaly finished the attachment system
Instanced Maps- Thanks to a very special friend
Pvp Battle Maps - 50% - Still Need To Finish This Up
Report System - 50% - Still needs to make a additional log containing all
messages of reported player
Map item description on hover - 90% - Just need to make sure it doesn't go off the screen (Picture below)
Unique Pvp 'Bounty system' - 100% - Details Below
Comparison System
Bank - 90% (You cant yet move bank slots)
Trading - 100%
Special Skill System, Will Release Details Later. - 20%
Pictures:
Auto-Updater... [Needs Alot of Work!]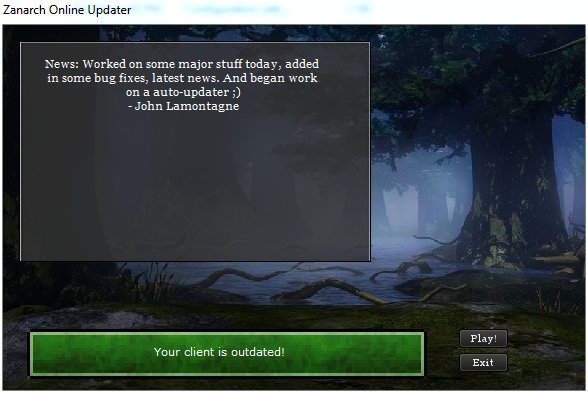 Map Item Hover Description:
Comparison System...
Here is a little sneak-peak at a boss instance map <It needs a lot of work "Im not a mapper
">
Trade System Up And Working:
Bounty System:
There is now a brand new PVP system being implemented, and i have it about halfway done... Here is how it works:
Basically, each time you killer a player you gain 1 kill count, and you keep gaining them until you leave the game (You are set back to 0). The person with the highest kill count in-game gets a bounty put on there head, all other players are now told of this bounty, and if they choose may go after this player for a reward. Once & If that player is killed, the bounty is passed to the next player (the player with the next highest bounty). If the player with the highest bounty should leave the game, he is deemed a coward and the server notifies the players VIA global message that he took the easy way out, and the bounty is once again put on the next player with the highest kill count. Should another player gain a higher kill count whilst you have the bounty, you will lose your bounty and and be rewarded with points for 'surviving' the man hunt. Or if you survive a certain amount of time (Still deciding on that) you will lose your bounty and be rewarded as well. Ill get back to you guys with more details on this ASAP.
Storyline:
In the beginning there were six realms: the Realm of Light, the Realm of Darkness, the Realm of Water, the Realm of Fire, and the Realm of Matter. The Sixth Realm, the Realm of Chaos, ruled over all realms. Chaos was everything, it was good and it was bad. It created war and it created peace. It spawned love and hate. The Realm Of Chaos was ruled by Zirune, a being said to bare the brightest light that would shine holy morality upon the other realms. The Realms were young, they were innocent. Everything was perfect and in harmony until the ruler of the Realm Of Light grew envious over the other Guardians, for his light would never shine brighter then that of Zirune's. In spite he corrupted the Realm's Of Light & Darkness and marched his armies across the loyal Realms until everything laid in waste. The bright light of Chaos was snuffed out, and the Guardians had destroyed themselves in war and violence. The only surviving creations from the old world were those that inhabited Zirune's proudest creation, Earth. This was well planned, for the prophets predicted in the final days of the old world that a champion would regain control of each realm and retake the realm of chaos bringing peace to the universe. We can only hope the prophets were right. For wheresoever goodness stirs, there is always Evil that will surely follow.
Credits:
[rose] - Help with 80% of the instance system.
Ninja-Tech - Edited the storyline and fixed some errors.
jc - Helped me find a segment of a line of code i missed xD
Elihu - Designed the logo currently being used.
Scott - Based my guild system upon his.
Current Team:
Just me
Server Status "Not That You Can Play Yet
"
- John ♥ Ponies​
Website
(Needs alot of work, mainly just to get additional feedback and keep people updated on the project.)
<!-- m --><a class="postlink" href="http://www.deviconcreations.com">http://www.deviconcreations.com</a><!-- m -->